Bacon Soldiers & Soft Boiled Eggs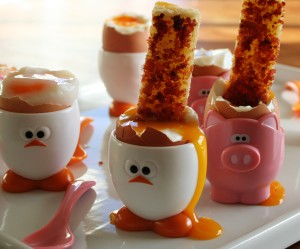 We all know Soldier Toasties in their various forms and here's a delightful twist using bacon and coriander butter. This flavour came about accidentally. A few coriander sprigs snuck in as I grabbed a handful of parsley. I only realised after I had processed the ingredients in the mini whiz, and caught that unmistakable scent of fresh coriander. Good thing I didn't discard the batch because it turned out great. This Bacon & Eggs family favourite is sure to be a winner in your house.
Ingredients – serves 2
4 large fresh eggs, room temperature
4 slices white bread, crusts trimmed
4 rindless short-cut bacon rashers
½ tablespoon parsley, finely chopped
1 tablespoon coriander, finely chopped (optional)
1 – 2 tablespoons butter, softened
Method
Preheat the oven to 180°C. Line a baking sheet with baking paper. Place bacon in a small food processor and with short bursts, process the bacon until finely minced. In a small bowl, combine the minced bacon with softened butter, parsley and coriander, if using. Liberally butter each bread slice with the bacon butter. Cut each slice of bread into 3 even sized fingers.  Bake for 8 – 10 minutes or until toast is golden brown and bacon is cooked. Meanwhile, place eggs in a small pot of water and bring to the boil. Cook for 3 – 4 minutes for soft-boiled eggs. Stir the water constantly so the yolks are centered. Serve immediately with the bacon soldier toasties.
Chook's tips
My nieces and nephews just love these fingers. I've also made them a peanut butter and bacon version and it worked a treat.